Africa Enterprise Trust has been helping children and young people in Zambia for more than 20 years. Our mission statement is:

"Africa Enterprise Trust works in Zambia through education and enterprise to equip young people with life skills to help them become self-supporting."
Currently we run two major projects:
Chimwemwe Children's Home
In response to many children living on the street in Lusaka some years ago, AET established a home for these children called 'Chimwemwe' which means 'happiness' in one of the local languages. We take children (in consultation with the local Social Welfare Office) who are double orphans or who would otherwise be living in vulnerable situations (eg a single alcoholic parent, etc).
Currently, 15 children (alongside three staff children) are provided with a secure family home, food, clothing, access to medical care and education in a local school. Unlike most orphanages in Zambia, which are largely run by 'housemothers' with limited fathering examples, the Chimwemwe homes are focussed on modelling family life with a housefather and a housemother (and a third live-in help to support the large family). This family-based approach to caring for orphaned children has been challenged by the Social Welfare Office, but after some difficult negotiations, we have persuaded them that this is a viable way to run a home in Zambia. Currently, the children are aged between 7 and 18. Children stay in the home until they are around 18 years of age, and have finished the next stage of their education. If they are able, they then get some computer skills training in our computer college (see below), and then we try to place them back with their wider family and encourage them to get more adult training towards getting regular work.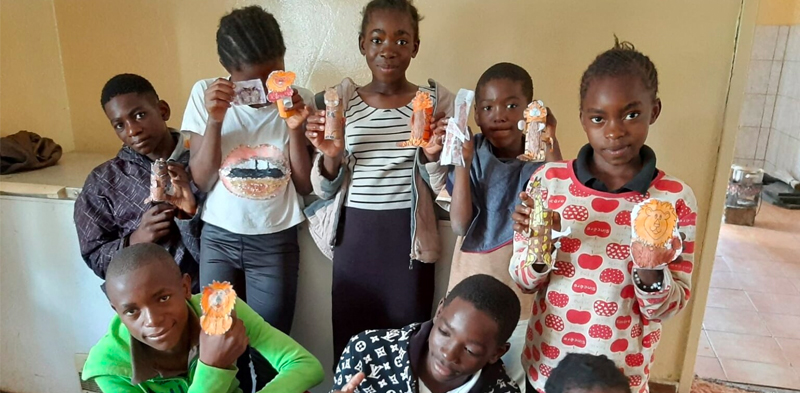 Enterprise College Computer Training School
AET runs a 12-desk computer training school for young people looking to acquire useful skills that help improve their study skills, help them get work, or help them get better jobs/promotions. We teach up to three classes a day (mornings afternoons, evenings), and the full set of classes last for three or four months, learning the Microsoft Office suite of products, Windows, Internet etc. Compared to many similar organisations in Lusaka, our students get a computer to themselves (not shared with another student), which enables them to explore and learn to the maximum whilst they are in class. Our tutors are regularly commended for giving personal and individual attention to each student's needs, rather than just talking from the front.
Recent projects:
A new pump was installed to make the water supply more secure on our site in Lusaka.
Current challenges (June 2020)
---
COVID 19
Whilst Zambia has had a thankfully low number of COVID-19 cases and deaths compared to many countries (around 350 deaths in total so far), nevertheless the virus has had a major effect on the country. In particular, schools were all closed early in the pandemic, before Easter. Exam classes (grades 7, 9 and 12) started back to school in June, and were only given a 2-week break in September, rather than their normal 4-week break in August. Their exams have all been postponed until after the end of term and will take place in the first 2 weeks of December (rather than in October and November as per normal). So these children will now actually receive the usual amount of teaching. However, all the other grades did not start back to school until 21st September, and hence most children, including most of the Chimwewmwe children, have missed several months' teaching. There was no online option for them to use as might have been available in the UK. A volunteer helper extended the number of remedial lessons she teaches in order to make sure all the children continued with regular reading and other lessons. The computer school had to be closed, along with other colleges, for a similar period, but Mike, our computer trainer, also provided lessons to the Chimwemwe children in a number of subjects.
Improving the quality of our programmes
There are children who would benefit from going to a higher quality local school - particularly in the early years where learning to read and do basic maths is vital. If we could put children into a better school (with higher fees!) that would make a significant difference.
We have spare capacity in our computer school, so resources to widen our advertising would help make better use of the facilities we have.
Self-sustainability
AET continues to look for opportunities to make the operations in Zambia more self-sustaining, reducing reliance on income from the UK. So there are a number of projects on the go aiming to generate more income from the site we use in Lusaka - renting out some accommodation, hosting events, etc.